Finally, after much rumour and denial, Panasonic are to release a Freesat PVR HDD Blu-Ray recorder from May, model number DMR-BS850. The announcement was made at the company's European press launch in Amsterdam this afternoon.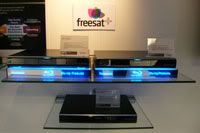 (image courtesy of Trustedreviews)
Little information is known of the new Freesat+ digital box, but what we can confirm is that it will be a twin tuner, with storage capacity of 500GB, plus Blu-Ray recorder. The receiver will also have a SD card reader and USB port for viewing images and video etc, plus Ethernet connection for future Freesat services such as iPlayer, as well as Panasonic's own Internet content delivery system, Viera Cast.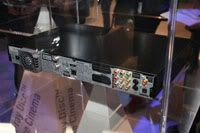 (image courtesy of Pocket-Lint)
A smaller capacity 250GB HDD version will allow be launched, model number DMR-BS750. Prices of either are yet to be confirmed, but the 500GB model is expected to retail for around £1,000.
Strictly speaking the combination of Freesat HDD and Blu-Ray should allow the recording of HD content onto Blu-Ray disc, although Panasonic do not wish to comment for obvious copyright issues.
If you feel either of these receivers might be a little rich for you, then Panasonic are also launching a non-BluRay version with DVD recover instead, model DMR-XS350. This will feature a 250GB hard drive.
Additional connections (certainly of the DMR-BS850) include HDMI, USB, Ethernet, Component Video Out, S-Video Out, SCART (TV and Video), Coaxial Digital Audio Out and Optical Digital Audio Out.

(image courtesy of Pocket-Lint)
Once again, well done Panasonic for taking the initiative and producing some pretty special Freesat products for us to drool over.
More details to follow as we have them, the official launch material has not yet been made available…